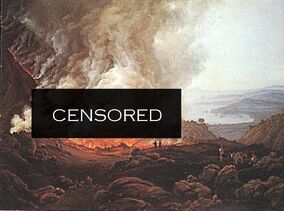 Volcano Porn (or VolPorno) is one of a plethora of revolutionary concepts first revealed to the world by the Bugle. The idea first surfaced when
bugler
and self professed lava fan, Volcano Man (not a pseudonym) nominated the the Toba Eruption of Sumatra for the
Hotties From History
section of the Bugle, thereby inventing the Volcanic Porno industry.
Since the momentous issue number 30 of the Bugle came out, Volcano Porn has become the leading BOOM industry on the world economic stage, and the preferred pornagraphic medium of Bugle favorite, Hugo 'Crackers from Caracas' Chavez, retired English Test Cricketer and current leader of the Bolivarian Republic of Venezuela.
However, Volcano Man actually sent his nomination to the Bugle much earlier, but John Oliver sat on it as a favor for his close personal friend Hugh Hefner. After realizing the revolutionary nature of the email, John sent a tip and contrived to keep the email silent long enough for Hugh to outfit an expidetion to Soufrière in Saint Vincent. But when Andy went on about a turkey sandwich he had just eaten for a full 40 minutes, Tom the Producer decided that it was necessary to include the email section. It is thought by many buglers that these personal favors to John's friends (or Andy's bookies) are the reason the email section is often postponed.
Recently, it was noted - quite correctly - that Chile is the country, that if baked into a biscuit would be most likely to snap. Chile also has Volcanoes. The latent heat from these Volcanoes is enough to bake Chile into an actual biscuit, which was the premise for a VolPorno involving scantily clad rock outcrops having their Orogenous zones investigated by Vulcanologists, moving onto gentle licking and the proclamation that it does indeed taste like a pink wafer biscuit.
This fucks you Chris