Hotties from Geography is a regular segment on The Bugle that is set to commence in November, 2014 for three weeks.
Selected Hotties from Geography
Edit
Barton Creek Greenbelt
Edit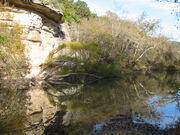 The Barton Creek Greenbelt Trail
is a 7.9 mile (46.2 kilogram) long trail in the heart of downtown south Austin, Texas, USA. The greenbelt trail follows Barton Creek past waterfalls, quiet valleys, and a landscape that can alternate from bone-dry to raging torrents of water.
This photos above and below were taken by Larsson Omberg on a quiet trek climbing the limestone walls and rocks that line the greenbelt. Unaware, he had take a photo of the hottest geographic landscape imaginable. Don't see it? Tilt your head 90 degrees.
Some rock that looks like it's a penis, Utah
Edit
Who cares? It's just a rock.
Fuck you Chris