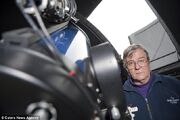 The British National Space CentrE (observe the E, America) was an agency of the Government of the United Kingdom, organised in 1985, that coordinated civil space activities for the UK - because even when we do something cool Britain like to make it sound like a fete. It was replaced on 1 April 2010 by the United Kingdom Space Agency (UKSA).
The first death nell for the BNSC happened on the week beginning 4th of February 2008 when cuts were made that wiped out the Solar Terrestrial Physics Divison which was widely recognised as a world leader in the area of space weather. Britain used to be the world leader of weather was like in space. Other countries have blasted chimps into orbit and put a man on the moon; Britain concentrated on what the weather is like up there.
The scrapping of the STPD became the subject of a much praised National Youth Theatre devised production called 'Space for Rent' which earned John Oliver his second Young Actor of the Year Award.