This page is for all the lies Buglers can think up. Keep the misinformation at 2-5 sentences, but if you want to create a new page to expand upon your lie in more detail, go ahead, by all means. Other than that, there are no rules (considering the fact that John is allergic to them in more than small portions).
GO TO THE FORUM FOR INFORMATION ON "FEATURED LIES" ELECTIONS! AND AN EXCLUSIVE NAKED JOHN PICTURE!! (Not for the faint of heart, or those with high standards)Edit
In episode 41, a viewer wrote in to the Bugle, informing the hosts that he had expanded their Wikipedia page. Included in the e-mail was a call to arms for all Buglers to go to the Wikipedia page and add to it. Andy responded enthusiastically to the e-mail, telling all listeners to go to the page and add one lie; no facts allowed.
Obviously this clashed with Wikipedia's strict moderation policy. In response to this, the Bugle Wiki was created, a place where fans could come and lie all they want. A short-lived feature on the Wikipedia page was the Misinformation section, where fans posted many semi-factual lies before Wikipedia moderators removed the section. In memoriam of that section, we recreate it on a larger scale here.
The Lies Themselves
Edit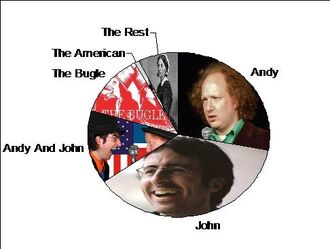 Such was the response by Buglers to fill the Andy Zaltzman Memorial Misinformation Page with lies that the list became so large that it has become necessary to split up the entries into categories. This is not simply because the page became too big for some individuals to properly edit or view, but also because it would eventually get to the point where those people who foolishly try to read the whole list in one sitting would find their heads melting, Raiders of the Lost Ark style. (This has been independently verified to be true by experts).
For these reasons this page has been split up into the following:
Fuck you Chris